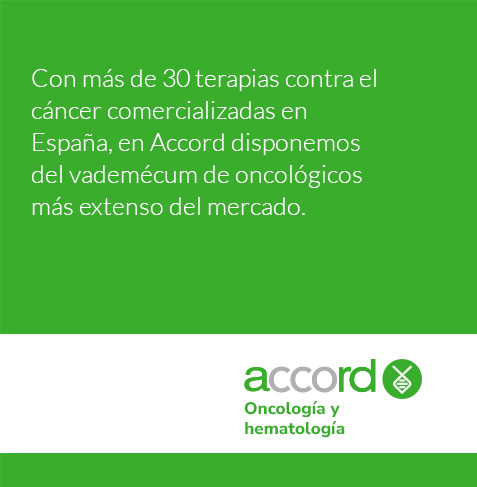 El cáncer es la segunda causa de fallecimiento en Europa,1 con más de 1,9 millones de muertes anuales,2 y supone una creciente carga importante para los sistemas sanitarios europeos, con más de 4 millones2 de casos nuevos cada año.
En Accord, trabajamos para mejorar el acceso de los pacientes a los tratamientos oncológicos esenciales en toda Europa. Gracias a nuestra amplia cartera, que incluye más de 30 fármacos quimioterapéuticos, nuestro objetivo es liberar recursos del sistema nacional de salud para descongestionar procesos y proyectos que mejoren la eficacia y la cobertura de la atención oncológica.
En Accord estamos comprometidos con invertir en investigación y desarrollo para medicamentos de alto valor añadido que puedan mejorar el tratamiento de las enfermedades y los resultados terapéuticos a fin de cubrir las necesidades no cubiertas de los pacientes y de los profesionales sanitarios.
Nuestra amplia cartera de productos oncológicos se centra en las neoplasias de mayor prevalencia, como el cáncer de mama y el cáncer de próstata, además de los tratamientos hematológicos y oncológicos de soporte. Actualmente disponemos de diversos tratamientos en desarrollo previstos para comercializar en los próximos 5 años.
1.    OECD iLibrary - Health at a Glance: Europe 2020: State of Health in the EU Cycle: Main causes of mortality. Consultado en octubre de 2021.
2.    GCO International Agency of Cancer Research - Cancer Today (2020). Consultado en octubre de 2021.