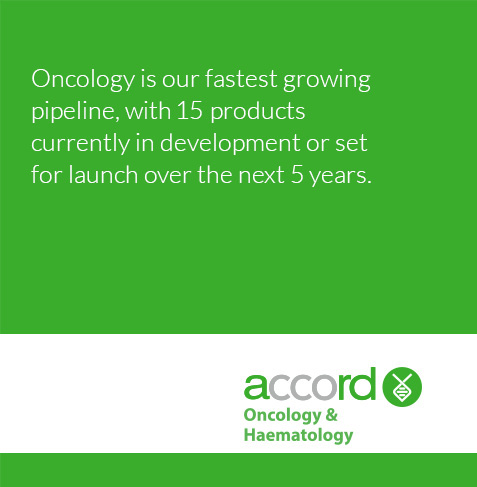 Cancer is the second leading cause of death in Europe1, accounting for over 1.9 million deaths annually2, and places a major and growing burden on European healthcare systems with over 4 million2 new cases every year.
At Accord we are driven to increase patient access to essential cancer therapies across Europe. By the means of our extensive portfolio comprising over 30 chemotherapeutic agents, Accord aims to free up resources from national healthcare systems to support and manage the burden of oncology care.
Built upon our generic foundations, looking to set ourselves apart, Accord is committed to continue investing in research and development to deliver a differentiated range of medicines that can improve disease management and treatment outcomes to address patients and healthcare professionals unmet needs.
Our vast Oncology pipeline focusses on prevalent tumour types including breast and prostate cancer in addition to haematological and cancer supportive care therapies. Over 15 treatments are currently in development and scheduled for launch over the next 5 years.
1.    OECD iLibrary -     Health at a Glance: Europe 2020: State of Health in the EU Cycle: Main causes of mortality. Accessed October 2021.
2.    GCO International Agency of Cancer Research – Cancer Today (2020). Accessed October 2021.