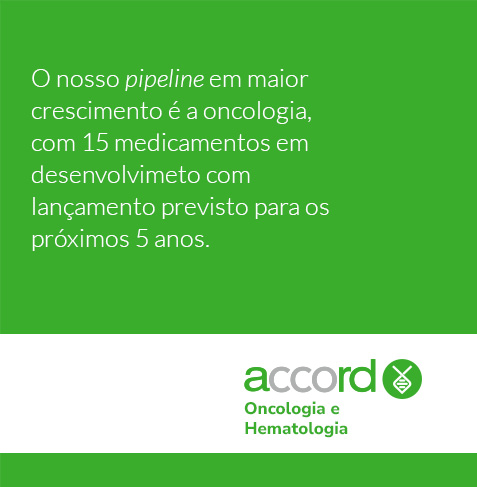 O cancro é a segunda principal causa de morte na Europa1, sendo responsável por mais de 1,9 milhões de mortes por ano2 com mais de 4 milhões2 de novos casos por ano, o que coloca uma crescente pressão nos sistemas de saúde europeus.
Estamos empenhados em aumentar o acesso dos doentes às terapias oncológicas em toda a Europa. Através do nosso portefólio, composto por mais de 30 agentes quimioterapêuticos, procuramos libertar recursos dos sistemas nacionais de saúde, apoiar e gerir a pressão nos cuidados oncológicos.
Estamos empenhados em continuar a investir em investigação e desenvolvimento para poder oferecer um conjunto diferenciado de medicamentos que possam melhorar a gestão da doença e os resultados dos tratamentos, respondendo às necessidades não satisfeitas dos doentes e dos profissionais de saúde.
O nosso vasto pipeline oncológico concentra-se nos tipos de tumor mais prevalentes, com especial incidência no cancro da mama e da próstata, para além das terapias hematológicas e de apoio ao cancro. Atualmente, estão em desenvolvimento 15 medicamentos com lançamento previsto para os próximos 5 anos.
1. OECD library – Health at a Glance: Europe 2020: State of Health in the EU Cycle: Main causes of mortality. Consultado em outubro de 2021.
2. GCO International Agency of Cancer Research - Cancer Today (2020). Consultado em outubro de 2021.