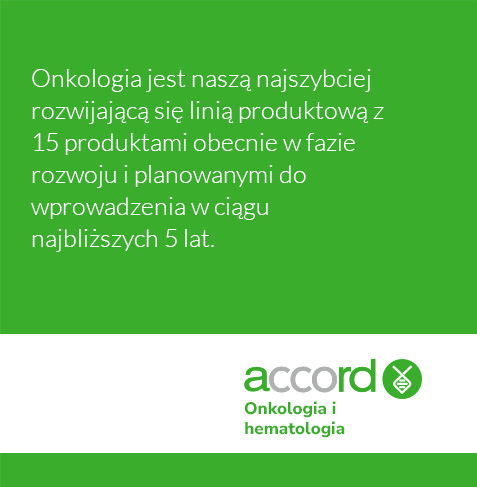 Nowotwory są drugą główną przyczyną zgonów w Europie1, powodując ponad 1,9 miliona zgonów rocznie2, a także stanowią poważne i wciąż rosnące obciążenie dla europejskich systemów opieki zdrowotnej - każdego roku odnotowuje się ponad 4 miliony2 nowych przypadków.
Celem grupy Accord jest zwiększenie dostępu pacjentów do niezbędnych terapii przeciwnowotworowych w całej Europie. Dzięki naszemu bogatemu portfolio obejmującemu ponad 30 chemioterapeutyków, Accord dąży do uwolnienia środków z krajowych systemów opieki zdrowotnej na wsparcie i zarządzanie obciążeniami związanymi z opieką onkologiczną.
Opierając się na naszych generycznych fundamentach, chcąc się wyróżnić, grupa Accord jest zdecydowana kontynuować inwestycje w badania i rozwój w celu dostarczenia zróżnicowanej gamy leków, które mogą poprawić zarządzanie chorobą i wyniki leczenia, aby zaspokoić niezaspokojone potrzeby pacjentów i pracowników służby zdrowia.
Nasza szeroka oferta onkologiczna skupia się na dominujących typach nowotworów, w tym raku piersi i prostaty, a także na terapiach hematologicznych i wspomagających leczenie nowotworów. Obecnie trwają prace nad ponad 20 lekami, których wprowadzenie na rynek planowane jest w ciągu najbliższych 5 lat.
1.    OECD iLibrary -     Health at a Glance: Europe 2020: State of Health in the EU Cycle: Main causes of mortality. Accessed October 2021.
2.    GCO International Agency of Cancer Research – Cancer Today (2020). Accessed October 2021.